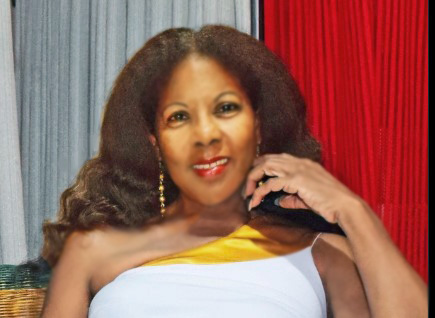 LYNDA OSBORNE, FASHION DESIGNER/STYLE MAKER
Born in the east of Trinidad &Tobago, Lynda Osborne, founded her Fashion Wear business in 1980 after quitting a nine to five office job.
Inspired by the remarkable response to the outfits she created in her spare time during her office tenure, she opened her first fashion shop in her home town, fully stocked with her designs under the label of Lyn  Mac.
She quickly became well-known  for her unique  and fashionable styles, and was sought after for wedding, evening and pageant gowns, as well as striking one-of-a-kind outfits.
With a natural aptitude towards the industry's business processes, two years later, Lynda relocated further west, gravitating to a bigger volume.  With a small staff, she expanded to manufacturing limited editions of her designs under the label of Lyn Borne, and supplied to prime local department stores and boutiques.
She singly handled the sales, designing, cutting, and fabric surface treatments.  During the initial three years in manufacturing, her  stylish sun-time pant sets, dresses and skirt sets included interesting detailing, as well as screen-printing, hand-painting and Shibori-dying on cottons, linens and jersey fabrics.  Her Christmas collections saw unique cuts using designer textiles and sequined fabrics.
 She produced limited editions of trendy casual wear, swimsuits, semi-formal wear and evening wear, while continuing to provide custom-made fashions to individual clients.  
Not to be often seen in the limelight, Lynda Osborne did not participate in fashion weeks, but instead went direct to the sales target, sought and approached wholesale buyers, and successfully delivered with continuing orders.
In 1991, she was invited to participate in a program in collaboration with the Japanese Embassy and Goodwill Industries, School for the physically-challenged. 
Here, she was introduced to Saori handweaving and soon added it to her skills portfolio, following which she developed  a program for Goodwill Industries, for the teaching of hand-weaving and the creation of hand-woven fabrics and products. These included purses, shawls and soft shoes.
1991 proved to be an eventful year where she created a stunning silver gown for the Miss Republic Carnival Beauty pageant for the first time, and won best gown, beating a popular all-time designer winner.  
Later that year, she was asked to produce a fashion show of her designs to delegates of the International Community Education Association (ICEA) during their annual conference which was held in  Trinidad at the Hilton Hotel that year.  This she did using the House of Jacqui Modelling Agency. She received an award for her remarkable contribution.
Relocating close to Port of Spain in 1992, Lynda Osborne solved a design dilemma for then leading carnival band Barbarosa, when she innovatively created costuming depicting the waves of the sea, using blue iridescent transparent organza with a rippling effect. This led to contracts for six more sections  that year, and on-going seasonal contracts during the next five years.
In the interim, Lynda Osborne launched a Business wear segment providing ladies made-to-measure tailored jackets, trousers, skirts and dresses to small companies and offices,  Her very first two clients were Citrus Growers Association and West Indian Tobacco Ltd.
For  Lynda, designing comes easily and natural, and she has a knack for developing her own advanced techniques from basic learnt skills.  With the advent of the computer, she  quickly taught herself and upgraded her art and design skills onto the digital platform from manual fashion illustrations to computer-aided designs.
Once again Lynda stepped into imparting her knowledge, this time in 2007 at the University of the West indies, when she co-lectured in 2 fashion modules : Fashion Industry  studies and Computer-aided design in Fashion, part of the 3rd year segment of the Human Ecology Bachelor of Science degree.
In 2008, taking a 4-year hiatus, she went on to solidify her natural knowledge, experience and skills, and attained a Bachelor of Fine Arts honors degree in Fashion Design in 2012, gaining some insights into the formal systems in the industry, while making comparisons with the real world.  Re-entering the industry was met with challenges as supply chains and markets' buying habits were going through a rapid change. 
Operations resumed in 2013, concentrating on in-person Bespoke and Made-to-measure fashion wear, gradually progressing towards e-commerce in 2022 and moving into ai-assisted fashion designing images by the end of 2023.